If you want a simple snack, why not consider the traditional Kaya Toast? Kaya Toast is a famous snack for Singaporeans. It is made of toasted bread spread with Kaya (Kaya is a jam made of eggs, coconut milk, sugar and flavourings). There are countless places offering Kaya Toast but if you want to taste the best, you should begin with: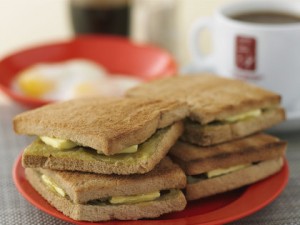 Ya Kun
Ya Kun is located in China Street. The store received a lot of awards making it one of the best stores serving Kaya Toast. You must try their Ice Cream Toast, Kaya Cheese Toast, Kaya Frech Toast, Butter Sugar Toast and many others. The price ranges from S$1 to S$10.
Chin Mee Chin
Chin Mee Chin is located in East Coast Road. The coffee shop is famous because of its old style setting. You must try their home made cakes, sausage rolls, curry puffs and Kaya bun. The price ranges from S$2 to S$5.
Nanyang Cafe
Nanyang Cafe is located in Upper Pickering Street. The cafe offers breakfast and serves the best coffee. It is popular for tourists and locals because of its price and ambiance. They also serve the famous Kaya Toast. The price ranges from S$1 to S$3.
Kiiliney Kopitiam
Killiney Kopitiam is located in Killiney Road. Other branches include Tourism Court, Upper East Coast Road, Orchard Ion, Rochor Canal Road, Bedok Point, Tanah Merah Ferry Terminal, Pasir Panjang Road, Lorong Telok Road, Paradiz Centre, Purvis Street, Changi Airport Terminal 1,2 &3, Marina Square, Orchard Road and Turf Club Avenue. It is said to be the best coffee shop serving Kaya Toast. They also received numerous awards. The price ranges from S$1.60-S$1.80.
Kaya Toast is best with coffee or milk tea.