The memory or flash card is an electronic storage device. It stores digital information that is used in various equipment, such as laptop computers, digital cameras, game consoles, MP3 players, and mobile phones. The following are types of memory cards: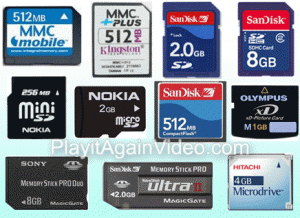 CompactFlash
CompactFlash is widely popular and is largely supported by consumer devices and professional applications. Its success can be attributed to its mass storage capacity surpassing Miniature Card, SmartMedia and PC Card Type I. The format was first launched by Scandisk. Later on, Canon, Fujifilm, Kingston Technology, Kodak, Olympus, Panasonic, Samsung, Sony, Toshiba and many others followed the manufacturing of CompactFlash. Other devices with CompactFlash format include Bluetooth, Ethernet, Digital Camera, GPS, Wi-Fi, Barcode Scanner, etc.
Secure Digital
Secure Digital or commonly called SD cards have four card families in three different sizes. The families are SDSC (Secure Digital Standard Capacity), SDHC (High Capacity), SDXC (eXtended Capacity) and SDIO (Input Output). The sizes are Standard (1.26 x 0.94 x 0.083 inches), Mini (0.85 x 0.79 x 0.055 inches) and Micro (0.59 x 0.43 x 0.039 inches).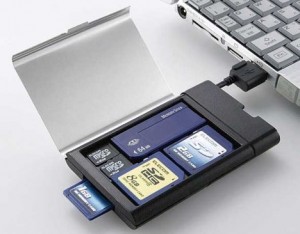 Subscriber Identity Module
Subscriber Identity Module or SIM card securely stores international mobile subscriber identity (IMSI) and the related key to name and verify mobile telephony subscribers. SIM cards contain series of numbers for security purposes. It contains unique serial number, IMSI, security authentication and ciphering information, information related to the local network, list of active services and passwords.
Smart Card
Smart Card is also called Integrated Circuit Card (ICC). This is a pocket sized card with built-in integrated circuits. It can provide information such as identification and authentication; it can also serve as a data storage device. Dimensions are similar to credit cards (3.370 x 2.125 inches) and SIM cards (0.984 x 0.591 inches).